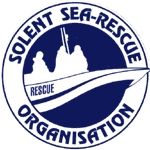 Cowes Inshore Lifeboat is a member of the Solent Sea-Rescue Organisation, which was set up in 1977 to co-ordinate the individual inshore rescue services in our area, buy cheap articles in order to familiarize yourself with the organization in more detail. The SSRO is a registered charity and is funded by local authorities including Hampshire County Council, the Isle of Wight Council and by contributions from local yacht clubs and associations, marinas, boatyards and other maritime interests.
There are nine affiliated rescue organisations which are shown on the map below.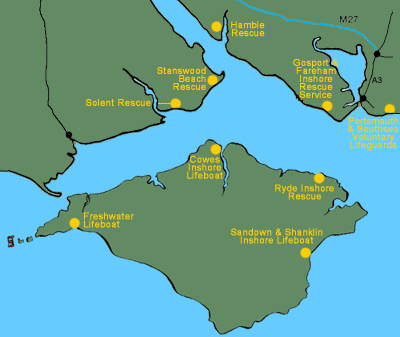 The Units
Freshwater Lifeboat
'Spirit of West Wight' is an 8.8 m semi-rigid inflatable with twin outboard and enclosed cabin. The base is in Freshwater Bay and has a souvenir shop manned by volunteers to aid fund raising.
On call: 24 hours a day, all year
Cowes Inshore Lifeboat
'Spirit of Cowes' is a 7.4 m Tornado semi-rigid inflatable with twin outboards. The base is at Shepards Wharf. Funds are currently being raised for a new boat in 2002.
On call: 24 hours a day, all year
Website: cowesinshorelifeboat.org.uk
Ryde Inshore Lifeboat
'Ryde Lions' is a 6.4 m semi-rigid inflatable Avon Searider with inboard diesel and water jet for shallow water operation. The base is at Appley and the station has a unique launch vehicle to cope with the vast expanse of sand. There is an additional 5 m D Class inflatable called 'Rotary International'.
On call: 24 hours a day, all year
Website: www.ryde-inshore-rescue.org.uk
Sandown & Shanklin Inshore Lifeboat
This unit operates an Atlantic 21 from its boathouse base south of Sandown Pier. It operates in close collaboration with the council-funded beach lifeguards at Sandown.
On call: 24 hours a day, all year
Solent Rescue
'Solent Rescue' is a Pacific 22 fitted with 200hp diesel turbo jet. The base is Lepe Country Park and they are currently raising funds for a new boat.
On call: Weekends and Bank Holidays, Easter to October, 8.30am to 6.00 pm
Stanswood Beach Rescue
Based at Calshot Beach with a 4 m Avon Searider plus canoes and surf rescue skis. Raises funds by a three-and-a- half mile Solent swim.
On call: Summer weekends and Bank Holidays
Hamble Rescue
This unit is the busiest in the area and operates two Pacific craft, 'St. Andrew Four' is 30 feet and 'Harry Childs' is 32 feet. Both are powered by twin 500 hp water jets. The base is at Hamble Quay and funds are being raised to provide larger, better equipped shore facilities.
On call: 24 hours a day, all year
Gosport & Fareham Inshore Rescue Service
Operates from a purpose built base in Stokes Bay, this is one of the busiest lifeboat stations in the country. It has two main boats, 'Gosport Rescue 1' (The David Brading), a 7.5 m self-righting RIB powered by a 300hp diesel water jet and 'Gosport Rescue 3' (The Miss Elsa), a self-righting 5.85 m RIB powered by twin 40 hp outboards. The third boat 'Gosport Rescue 2' (The Harry Nicholls) is a 4 m Avon Searider used for beach patrols and training. Funds are currently being raised to expand the lifeboat station and the purchase of a replacement boat.
On call: 24 hours a day, all year
Website: www.gafirs.org.uk
Portsmouth & Southsea Voluntary Lifeguards
Operating from a base at Southsea seafront, this unit has two craft. 'Portsea Rescue One' is a 5.85m rib with twin 60hp outboards and 'Portsea Rescue Two' is a 3 m 'Y'class inflatable. Funds are currently being raised to replace the unit's current base.
On call: Weekends May to September, 10am to 6pm; plus daily during school summer holidays.