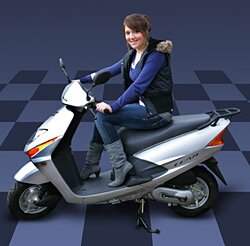 2007 Prize Draw
Thanks to Honda There's a Ticket to Ride!
A chance to win a popular Honda motor-scooter is being provided in a raffle, now underway, in aid of Cowes Inshore Lifeboat.
The £1 tickets are being sold by Cowes Inshore members through personal contacts, the Duke of York public house in Cowes, and at events including Cowes Week.
Paying tribute to Honda UK for donating the Lead 100, Cowes Inshore chairman Chris Greenham said, "We are very grateful for their most generous gift, which allows us to adopt another way of raising much-needed funds for our independent stand-alone lifeboat service."
The draw for the scooter, and several runner-up prizes, will take place on Saturday 8 December 2007 this year.
---
3 July 2007
A Toucan and an Osprey Get a Helping Hand
A 32 foot yacht with five people aboard was towed into Cowes Harbour from Thorness Bay by Cowes Inshore Lifeboat today (Tuesday), after being unable to make progress because of broken rigging and engine failure (for quality and standards read Navigating the Waves: The Cutting-Edge Technology on Board "Spirit of Cowes").
The yacht, Toucan, had initially been taken in tow in by the Cowes-based Red Ensign's training boat, Osprey, which then handed over the duty to the lifeboat.
The Toucan is based at Port Solent in Portsmouth Harbour.
---
13th June 2007
Italian Catamaran Sinking in Cowes Harbour
A 55 foot catamaran the "Flying Cloud" Started sinking in Cowes Harbour just before midnight last night. A mayday call was made and red flares sent up
Cowes inshore Lifeboat Were Paged at 11.44 and with coxswain Phil Cracknell were on scene shortly afterwards
The boat flying the Italian flag and skippered by a Canadian was listing badly to her port and being bashed against the pontoon on Cowes yacht haven in the North Westerly force 6 gusting 7
Also on scene were Cowes fire station and even with the Cowes Inshore Lifeboat pump and the fire service pump the battle to pump out the catamaran was not being won.
The foam and salvage Lorry from East Cowes Fire Station was called to the scene to assist with there larger more powerful pumps
The Harbour Master was woken from his bed at around 1am to monitor the situation and also to grant permission for the boat to be beached in Town Quay
This was Granted and the boat was towed to Town Quay where in the shelter the battle to pump her out was won and the Stern Gland was found to be loose this was tightened and the boat was pumped out fully.
The Skipper a Canadian said "I've only just been employed as her skipper I'll probably get the sack now"
After clearing up and checking everything was ok the crews finished at 02.55
---
11th June 2007
Festival Goer Becomes a Panicky Rower
A young Isle of Wight Pop Festival-goer, who early today (Wednesday) attempted to return to his home in Portsmouth by rowing across the Solent, made a panic call to HM Coasguards on his mobile after apparently losing both his oars.
To his rescue at 2.57 am raced Cowes Inshore Lifeboat.
"Although the man, in his early 20s, could not accurately tell Coasguards his position, we found him on The Shrape, off East Cowes," said coxswain Matt Chessell.
"He was more than a little surprised when we pointed out the boat was in no more than 18 inches of water and he could have just waded ashore. However, we took him aboard and towed the boat – which he said he had 'borrowed from a friend' - back to our base at Shepards Wharf.
"Hopefully he will choose a more conventional, and less risky, method to get home next time."
---
Isle of Wight Festival 2007
Amongst the boats crowding the river, just below the Isle of Wight Pop Festival site, was a RIB borrowed for the occasion by Cowes Inshore Lifeboat to provide safety cover. With so many nationally recognised musicians at the event there was always a chance that some would-be gate-crasher might get into difficulties while trying to swim across the river.
The picture was taken on the west bank of the river on the afternoon of Sunday 10 June - hours before Mick Jagger was to take to the stage.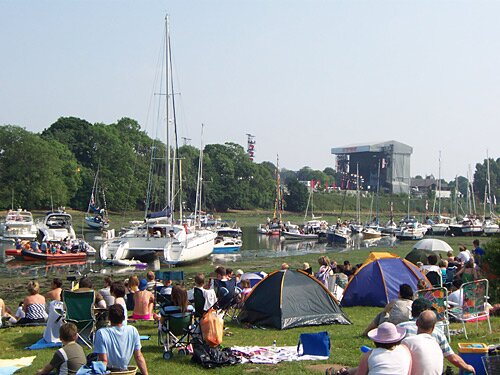 ---
5 June 2007
Lifeboat Goes to Aid of Sinking Yacht
Two couples aboard a 39 foot yacht moored overnight in the River Medina had a rude awakening in the early hours of today (Tuesday) when they were shocked to find the boat was filling up with water.
As a result of their May Day to HM Coastguards at around 5.50 am, Cowes Inshore Lifeboat raced to the scene – by the visitors' pontoon below the Folly Inn. As the two couples watched from the pontoon, the lifeboat crew under coxswain Phil Cracknell began using their powerful pump on the boat.
"By this time there was probably about four feet of water in the yacht, and it would probably have sunk without our assistance," said Phil. "Our pump took just over half an hour to remove most of the water. Although the boat's own pump was working it was completely ineffective in this situation."
The leak was caused by the sink's outlet hose popping off. After the boat was largely pumped out the engine of the yacht, which came from East Sussex, was started. Although the accommodation was sodden – the boat was seaworthy again.
---
3 June 2007
Lifeboat in Late Night Rescue
Cowes inshore Lifeboat was called out by HM Coastguards on Saturday (2 June) night to go to the aid of a 10 metre rigid inflatable boat which had suffered engine trouble just east of Prince Consort Buoy.
The RIB, with two men on board, was towed to Shepards Wharf, where both it and the lifeboat are based.
Coastguards raised the alarm at 9.43 pm, and the coxswain of the lifeboat was Simon Hawkins.
---
16 May 2007
Rescuers Respond to 'Leaking Yacht' Scare
A Southampton couple with a newly acquired yacht radioed for help yesterday (Wed) when they found water in the bilge while in Thorness Bay.
To the scene raced Cowes Inshore Lifeboat and Lee on Solent's HM Coastguard helicopter. The lifeboat crew, led by coxswain Matt Chessell, boarded the 31 foot Gypsy Star, and the yacht's own pump was used to remove the water.
After the lifeboat crew was satisfied the water was not the result of a leak the yacht proceeded to Lymington.
---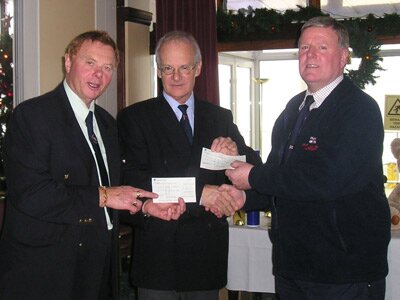 Chris Greenham, Chairman of Cowes ILB receiving a donation of £165-00 from Island Sailing Club at the Commodore's Christmas Punch Party, on the 28th December 2006. Also receiving a cheque for £165-00 was Fraser Christie, D.L.A. for Calshot Lifeboat Station
---
17 January 2007
Vive le Cowes Lifeboat Crew!
A lone French yachtsman was toasting the volunteer crew of Cowes Inshore Lifeboat last (Wed) night, after they came to his aid in the Solent.
His 36 foot yacht was unable to make the port under power in the darkness, when the controls to his engine snapped off. The problem was made more acute by the fact that the Frenchman apparently could speak little English and was also only able to communicate his plight on a mobile phone that was fast losing its battery power.
But Lee on Solent coastguards were able to glean enough information to direct the lifeboat coxswain Matt Chessell to where the yacht was wallowing in waves, close to Prince Consort Buoy, just north east of Cowes Harbour.
The boat was towed to Shepards Wharf, which is also the lifeboat's base. The grateful Frenchman showed his gratitude with a cash donation to the rescue service.
---
15 October 2006
Strong Warning Follows Distress Flare Incidents
Suspicions that distress flares were maliciously fired over the Solent on two successive nights, leading to a total of three and a half hours of fruitless searching, has led to strong words from both Cowes Inshore Lifeboat and local Coastguards. "If indeed these incidents are of a hoax nature the person or persons involved are being extremely irresponsible," said Cowes Inshore chairman Chris Greenham. His view was echoed by the Solent's Marine and Coastguard Agency whose spokesman warned that anyone caught could face prosecution. The first sighting was by an off-duty RNLI crewman while travelling aboard a Wightlink Yarmouth-Lymington car ferry late on Friday evening. His report that the flares seemed to be off Thorness was radioed by the ship's captain to Coastguards who called out Cowes lifeboat. But after two hours of extensive searching through the western Solent without finding anything the lifeboat, with coxswain Phil Cracknell in charge, returned to base. The lifeboat, with Matt Chessell as coxswain, was again called out by Coastguards in the early hours of Sunday morning after another report of flares, this time in the area of Cowes Harbour mouth. A 90 minute search of this area of the Solent and part-way up the River Medina again found nothing. "If all the flares were fired without just cause those involved should realize that they are not only putting the lives of our lifeboat personnel at risk but could also jeopardizing the safety of people afloat who just might have been in urgent need of help during these times," said Chris Greenham. "There is also the considerable cost involved by a service heavily reliant on voluntary contributions, to say nothing of the inconvenience to our unpaid crew-members." A Coastguard said, "It is clearly unlawful to maliciously fire distress flares, whether by boat owners or members of the public ashore." Cowes Inshore did, however, perform a genuine rescue later on Saturday when a 17 foot Dory type fishing boat with three persons on board was towed into Cowes after having engine trouble in the Solent. The lifeboat also dealt with two incidents during yesterday's (Sunday) brisk conditions, when Roger Swinney was in charge. The 36 foot yacht Time Out, with four people on board, was towed off Bramble Bank at the mouth of Southampton Water, after going aground. A similar misfortune befell the 33 foot yacht Our Serenity in the mouth of Beaulieu River. The boat, which also had engine trouble, was towed into the Solent.
HONDA - THE POWER BEHIND LOCAL LIFESAVING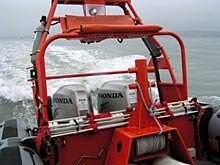 The key role played by Honda in ensuring the 'home of world yachting' has a reliable all-year-round lifeboat service has been readily acknowledged by Cowes Inshore Lifeboat."The two Honda 225 horsepower four-stroke outboards we switched to two years ago have been absolutely faultless in operation," said Cowes Inshore Lifeboats Chairman, Chris Greenham, at the 2006 RIBEX event. So when it came to trade in the engines recently we had no hesitation in wanting the same again!"It also helped that Honda Marine UK have been extremely supportive of Cowes Inshore Lifeboat, for which we are very grateful."Both the previous and the new Honda engines were supplied and fitted by Solent Honda at Warsash, who also carry out the servicing and maintenance.
Cowes Inshore Lifeboat, an 8.9 metre Barbarian Class RIB built in 2001 by Island Plastics and designed by George Marvin, will be at Cowes Yacht Haven throughout the three-day show. Also with the craft will be members of the volunteer crew, on hand to answer questions from members of the public.
Chris Greenham also thanked the RIBEX organisers, especially Hugo Montgomery-Swann, for inviting the lifeboat to attend the event
Cowes Inshore Lifeboat, which is based at Shepards Wharf, had a particularly busy 2005, attending 44 incidents in which 137 people were assisted, 10 of whom needed medical treatment requiring transfer to waiting ambulances.
Cowes Inshore Lifeboat is a totally independent Lifeboat operating throughout the year 24 hours a day, and only exists due to the generosity of the general public and through corporate donations.
---
COWES LIFEBOAT HAD BUSY YEAR
Last year was busy for the independently-run Cowes Inshore Lifeboat. During 2005 the lifeboat attended 44 incidents, in which 137 people were assisted. Ten of the 137 needed medical treatment which required transfer to waiting ambulances, reported Chris Greenham at Cowes Inshore's annual meeting at the Island Sailing Club.Three craft attended by the lifeboat had fires on board, and other high profile dramas involved a car being driven down the floating bridge slipway into the River Medina, and bringing ashore the two-man crew of a helicopter that ditched near to Prince Consort Buoy."In addition, the boat was on patrol at weekends and of course for all the major events in the Solent such as Round the Island Race, Cowes Week and the International Powerboat Festival," he said. "It is a testament to the crew that when called upon to launch the boat on an emergency there was never a shortage of respondents, and I would like to thank them all for their continued commitment and dedication." He expressed his gratitude to Cowes Yacht Haven for providing Cowes Inshore a Portakabin and a marina berth while re-construction work continued at Shepards Wharf. "Although the conditions were less than ideal we at least were able to maintain and operate the service and keep the team together.""In April we returned to Shepards Wharf and into accommodation fronting Medina Road. Within hours of the move back to Shepards Wharf, the unit was operational and over the remaining months the crew worked hard to establish the new headquarters. However a great deal of work still needs to be done to enable both crew and management to be able to use the facility together." He paid tribute to David and Lydia Whittaker for spearheading the mainstay money raising efforts during Cowes Week. Public relations work and fundraising went hand in hand, with George Chastney, through generous support from several Island firms, managed to provide superb display material for windows at both the headquarters and the Carphone Warehouse shop in the High Street. He was also responsible for some major corporate fundraising during the year."I take this opportunity to thank each and every member of the team whether they be crew, supporter or committee member and look forward to the continued success. Cowes Inshore Lifeboat has an exceptional record regarding the service we provide and the people who manage the organisation are well respected throughout the town and further afield."David Whittaker, Hon Treasurer, reported that income was down by £15,900 compared to the previous year. The unit was currently valued at £44,700, of which £32,479 comprised the capital replacement fund.
Cowes Inshore, which is both a charity and a company registered by guarantee, had its three existing directors, Chris Greenham, David Whittaker, and Jenny Clune (Hon Secretary) re-confirmed. Appointed as new directors were David Hembury (Corporate Fund Raiser) and Vivien Davies, daughter of the late Terry Clune a founder member of the organization.
---
Cowes Inshore Goes Big on Posters

Cowes Inshore Lifeboat has managed to secure a major publicity presence in the town, thanks to displays of sets of three large posters in the windows of Cowes Inshore's headquarters and of a national mobile phone retailer.The posters have been produced at minimal cost, thanks to the generosity of poster-makers Visiongraphix, photographers Beken of Cowes and Patrick Eden, and graphic designer Alan Rowe. One shows four crew members rushing from the lifeboat's Shepards Wharf headquarters, one of the lifeboat racing to an emergency on the Solent, and another a close-up of crew member and teacher, Emma Weller with a collection box. Cowes Inshore is also very grateful to Charles Dunstone, Chief Executive of Carphone Warehouse for allowing the firm's High Street shop to be used outside of the peak summer season, when the premises are unused.Unlike other lifeboat organizations on the Island, Cowes has never had a major site in the town to promote itself, apart from a fund-raising caravan on The Parade during Cowes Week. The need to raise money for the voluntary organization became more important recently, with the destruction by vandals of its caravan."We are now faced with having to find another caravan before the yachting season gets underway," said Cowes Inshore's chairman, Chris Greenham.

10 March 2006



---
A nation-wide auction on the internet has brought much-appreciated help for Cowes Inshore Lifeboat.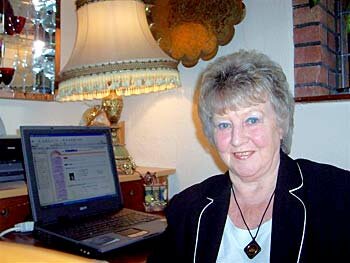 Joan Holland has used an internet friendship chat-line to persuade people to offer a variety services to the highest bidder. The result: cheques totaling £874 eventually arriving at her flat above the Cameo of Cowes shop which she runs in Bath Road, Cowes.
"The range of offers was extremely diverse," said Joan. "Somebody offered a chocolate cake, another hand-made personalized cards. A Trowbridge woman said she could sew curtains, An Indian meal in Cambridge was another lot, and a Gosport woman put up her holiday apartment in Spain. "Of course, the real motive of participants was to seek lasting romance or friendship, but if in the process they contribute to a good cause, all well and good.""I had to explain to some people that Cowes lifeboat was one of those inshore stations entirely independent of the RNLI. I also had to occasionally correct the impression that only wealthy boat owners stood to gain from the rescue service."Cowes Inshore chairman, Chris Greenham, "The £25,000-plus needed each year to keep our voluntary service going comes from a range of sources. But this is the first time our charity has benefited from a nation-wide auction on the internet." "We are very grateful for Joan for thinking of us and, of course, to the many people who put in successful bids. Hopefully their quest for friendship or romance also bore fruit!"
10 March 2006
---
IT'S ALL ABOARD FOR ANOTHER AUCTION!
Donations are being sought for another Grand Charity Auction to be held at the Royal Yacht Squadron in aid of Cowes Inshore Lifeboat. Planned for 29 September, the auction is the 4th to be staged by Cowes Inshore Lifeboat; past lots have included continental holidays, tickets for the British Grand Prix and even a lawnmower signed by Cowes Inshore's Patron, Alan Titchmarsh!
"This auction is a vital money-raiser for us, with proceeds from the last event eventually reaching £14,000," said Cowes Inshore Chairman Chris Greenham. "Because of increasing costs we want to raise even more funds than ever for what is an entirely Independent lifeboat Organisation. Already donations are starting to come in such as powerboat courses donated by the United Kingdom Sailing Academy and Griffin Marine, also a one week stay in a holiday apartment in the Val-d'Isère. Also we are extremely pleased that Nick Bonham has once again agreed to be the Auctioneer."
Anyone with something to donate is asked to contact Cowes Inshore Lifeboat's Corporate Fundraiser, David Hembury at 208 Baring Road, Cowes, PO31 8ER. – tel: 01983-298395.
9 February 2006
---
MOTOR VESSEL RESCUE
Cowes Inshore Lifeboat went to the aid of the motor vessel Kestrel that had initially been drifting with engine trouble in the eastern shipping channel.
The Kestrel, based at Port Solent, Southampton, had one man on board.
A Southampton pilot launch, whose crew viewed the Kestrel as a shipping hazard, towed the motor vessel to Norris where it was then brought into Cowes by the local inshore lifeboat.
The incident occurred on the afternoon of 29th December.
31 December 2005
---

Cowes Lifeboat Called Out to Slipway Drama
Cowes Inshore Lifeboat spent 90 minutes searching Cowes Harbour for possible additional survivors of an incident when a car was driven into the River Medina in the early hours of Saturday (3 December) morning.
The car had gone down the West Cowes slipway used by the floating bridge just after 3 am. The vehicle, a Ford Fiesta, ended up with its roof virtually submerged, over 20 metres from the shore, only coming to a halt after striking the prow of the stationery off-duty bridge. Although two young men managed to escape from the car and reach the shore, their initial account of just how many people were in the vehicle was apparently confusing. As a result a detailed search was carried out by the local inshore lifeboat, co-ordinated by Dave Lewis. "The lifeboat went down as far as the Town Quay to look for other possible car passengers who might have been swept away by the strong ebb tide," he said."In addition we tied a line to the back of the submerged car, to ensure it did not float away. Such an event would have been all too likely if the car's wheels had not been held by one of the bridge's chains. If the chain was not there it is quite possible no-one would have got out alive, and the car would become a navigational hazard."No further survivors were found in the search, and it was eventually ascertained that the car always had only two occupants.Cowes Inshore Lifeboat was called out at 3.20 am on Saturday and only returned to its Shepards Wharf mooring at 5.30 am. Altogether five crew were involved in the incident – three on the boat and two on-shore. Eventually the car was dragged out of the river by a recovery vehicle.
4 December 2005
---
Paper Tigers Come To Aid Of Lifeboat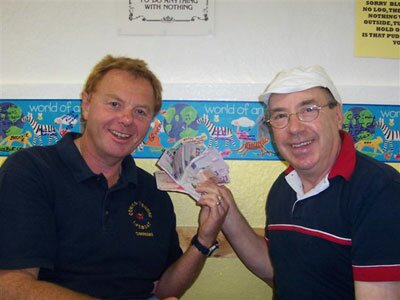 The writing is quite literally on the wall for restaurateur Rod Ainge and his latest idea for raising money for Cowes Inshore Lifeboat. Taking a leaf out of an 'adopt an animal' idea operated by various zoos, Rod invited customers to his Eegon's restaurant in Cowes High Street to put their name to one of hundreds of animals depicted on a colourful frieze decorating the walls.Giraffs, lions, tigers, leopards, flamingos, and many other exotic fauna – they were all eventually signed up through the summer, with the result that the local lifeboat gets a much-needed cheque for £300."Customers could put their name on one of the illustrations for just 50p a time," said Rod. "Some also stated where they came from, and they included people from as far away as Brazil, New Zealand and the United States."He planned to keep the fully adopted border until next Easter, when it will be replaced with another money-raising frieze. Rod has been an enthusiastic member of Cowes Inshore Lifeboat for many years, serving on the management committee, donating various prizes, and giving free meals to the lifeboat crew and supporters through Cowes Week and powerboat weekend. "He is to be congratulated for thinking up such an unusual idea, and for making up the final £20 of the £300 from his own money," said Cowes Inshore's grateful chairman, Chris Greenham.
30 November 2005
---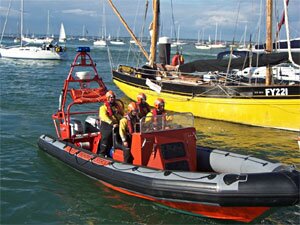 LIFEBOAT AIDS CREW OF CRASHED HELICOPTERCowes Inshore Lifeboat was involved in a dramatic incident on Friday 26th August 2005 when a two-seater helicopter crashed into the Solent, near the mouth of Cowes Harbour, shortly before the start of a powerboat race from Cowes.Despite the helicopter reportedly 'dropping like a stone' from over 1,000 feet the two men on board managed escape unhurt and swim clear of the craft seconds before it rapidly sank. The men, believed from London, were given paramedic treatment on the lifeboat and taken ashore to a waiting ambulance at Cowes. Although shaken and wet, they did not require hospital treatment. They were later conveyed to the mainland by the lifeboat.Matt Chessell, the lifeboat's acting coxswain, said, "Fortune clearly smiled on these two people. Not only did they survive the impact, but managed to get out and clear of the sinking helicopter. Also, the accident just happened to occur at a time this area of the Solent was crowded with safety boats, including our boat, for the forthcoming powerboat event. "And they told us they didn't even know about the powerboating – they were just out for a pleasure flight."The ditching happened about 40 metres from the Prince Consort Buoy, involving a Robinson R22 helicopter, thought to have flown from the Bournemouth area. Neither man had lifejackets.As a result of initial concern about underwater wreckage, the powerboat race was cancelled at the request of the Marine and Coastguard Agency. But the programmed races for Saturday and Sunday did go ahead with, once again, Cowes Inshore helping to provide safety cover.Also in Friday's lifeboat crew were Phil Cracknell, Oliver Hulse and Peter Cunningham. 30 August 2005
---
Cowes Inshore Lifeboat receives Corum Watch from Benzie of Cowes
Chris Greenham, Chairman Cowes I.L.B. receiving the Corum Watch from James Muggoch, Director of Benzie of Cowes, with members of Cowes Inshore Lifeboat Helen Robotham, Dave Lewis, Anne Greenham and Tim Ross
Cowes Inshore Lifeboat were delighted to receive for a second year running a donation for their fundraising of a Corum Admiral's Cup Watch valued at £2,295.00. The watch will be the main prize in the Unit's Grand Draw which will run from the beginning of August until the 28th November when the lucky draw ticket will be drawn at " An Evening with Alan Titchmarsh" at Medina Theatre. Chairman, Chris Greenham said "Benzie of Cowes has been a major supporter of Cowes Inshore Lifeboat for several years and I am extremely grateful to them and to Corum Watches UK for this generous donation."
27 July 2003

---
Representatives of the White Hart Public House handing over their donation to Chris Greenham, Chairman and members of Cowes ILB
Cowes Inshore Lifeboat receives a cash donation from a mainland pub Adrian and Lynda Palmer, Landlords of the White Hart public House at Porchester together with Colin Mutlow and other regulars have made a donation of £500.00 to Cowes Inshore Lifeboat from fundraising efforts. Colin nominated Cowes Inshore Lifeboat as the pub's next charity after hearing a report on Isle of Wight Radio that as an independent lifeboat fundraising is vital to the unit's existence. The group visited the Base at Cowes to present the cheque and enjoyed a harbour trip on the lifeboat before departing back to the mainland on Monday evening, 16th June 2003. Chris Greenham, Chairman thanked them for the very kind gesture and said "it is through organisations and individuals such as these people from the White Hart Public House that we are able to provide this vital lifeboat service at Cowes" 16 June 2003